Last Advent, I was called into school to do Christmas. At quite short notice. And I don't have a small nativity set. I've knitted lots many, but I didn't do one for myself (*note to self, have missed it again…) so I had to work fast.
Luckily, I had these to hand:

which were turn-into-able-in-an-evening these:
with a matchbox and a bit of tissue paper for baby Jesus. All of it fitted into the smallest of my Orla Kierly cake tins to carry with me. I worried they might be a little too small, but it just meant that the children were super quiet and super attentive to see each piece passed round before we put it in its place. Yes, the sheep are just blobs of fluffy wool.
I'm quite a fan, I realise, of the faceless thing. I know this is common to Godly Play figures, but it was most keenly brought home to me in that I gave myself a lenten project to knit a last supper set to join the Jesus I did last year for my resurrection eggs. This was not so much a time issue (I have a little bag of 13 beards and hair am now not too sure what to do with) but that when I started putting them together I thought it might be better leaving them egg-headed to allow for imagination.
It turned out that this was spot on. I had deliberately chosen to keep the garment combinations as neutral as possible, but I included (red would have been a bit obvious) a couple of dark red/purple options. When I had the smallest children round me in church on Good Friday and I said one of these people left Jesus and told on him, which one do you think it was, they unanimously went for the one in reddy-purple. They could imagine sad and angry and scared faces on all of them, which was fine. And it marks a very obvious difference to Jesus himself, the only figure (figures, there's an all white resurrection one too) with hair and facial features. The women have cloaks instead, doesn't seem to confuse the kids too much at all.
Here's the last supper set. Well worth it as they can be pulled out and re-used for all sorts of stories. One is make-able in an evening if you have done a hundred or so before, or you can knit fairly compentently. I use the Alan Dart pattern for these (this one for the colours, but you need this one for the camel).
There are also last supper and resurrection sets available in the tiny wooden versions, see all these. but when you've seen a few, you can probably make your own. As ever, Hobbycraft is your friend for the pieces. I'm loving the little donkey. It's on my to-do list.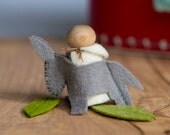 you're welcome :-)